Vanilla Porter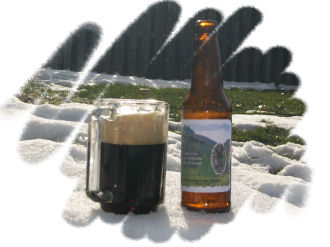 While in Breckenridge for the International Snow Sculpture competition, I ate at the Breckenridge Brewery and tried their Vanilla Porter. I really liked the taste and since I had just started brewing beer, I promised myself that I would try to make a Vanilla Porter at some point.
One of the Mr. Beer Premium refills is a beer called Black Tower Porter, which certainly seems as good a place to start from as any. Basically, I am just doing the Mr. Beer ingredients "straight up" with a bit of vanilla. I was going to start off with 1/2 tsp and will see how it turned out. But, after tasting a QA sample of my X-Mas Ale, I decided to go higher. I tried 1 tsp for my first batch and found that the vanilla taste is practically not there.
Next time I try to brew this I think I am going to try using real vanilla beans. One of my Mr. Beer forum buddies gave some advice on how to use the vanilla beans (at this post). I may also come up with my own recipe for the porter part of this beer, so most likely this will be a much different recipe next time I brew it.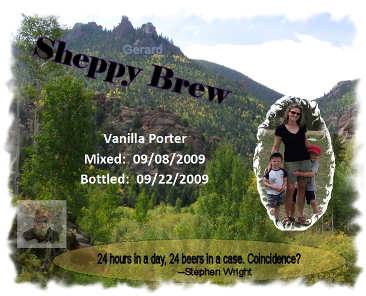 Recipe
Vanilla Porter
Style
Robust Porter
Brewer
Sheppy Brew
Batch
2.13 gal
Extract
Recipe Characteristics
| | | | | | | |
| --- | --- | --- | --- | --- | --- | --- |
| Recipe Gravity | | 1.048 OG | | Estimated FG | | 1.010 FG |
| Recipe Bitterness | | 20 IBU | | Alcohol by Volume | | 4.0% |
| Recipe Color | | 24° SRM | | Alcohol by Weight | | 3.1% |
Ingredients
Quantity
Grain
Type
Use
2.42 lb
MrB. Black Tower Porter
Extract
Extract
Quantity
Hop
Type
Time
2.00 oz
MrB. Black Tower Porter
Pellet
5 minutes
Quantity
Misc
Notes
1.00 unit
Ale yeast
Yeast
Fermentis SAFEALE US-05
1.00 unit
Vanilla
Flavor
1 tsp
Recipe Notes
Boil vanilla in 4 cups of water.
Remove from heat and add the HME.
Add to keg, pitch yeast as usual. Ferment 2 weeks.
Batch prime with 1.875 oz sugar.
see http://www.fermentis.com/FO/pdf/HB/EN/Safale_US-05_HB.pdf
| | |
| --- | --- |
| Date | Note |
| 08/30/2009 Sun | After tasting the X-Mas Ale, I decided 1/2 tsp would not be enough vanilla to actually taste. Going to go with 1tsp instead. |
| 09/08/2009 Tues | Mixed up the batch in Tuke. Boiled the Mr. Beer yeast and added in some yeast nutrient. Split the US-05 yeast in half so that I can still use it for the next Wetta Blonde. As this extract suggests 2 bags of Mr. Beer yeast, I may have short-changed the yeast in this one. We will see how it goes. |
| 09/11/2009 Fri | After the yeast was obviously taking off (early Thursday), I moved Tuke into the conditioning cooler (as I only had one batch conditioning in there). The temperature is indeed more consistent in there than sitting in the steralite container. Might have to invest in another big cooler for better fermentation control. Of course, it is cooler in there too. The temp strip has been 65 to 62, which is great for this yeast, but Mr. Beer yeast would not like it. |
| 09/22/2009 Tues | Bottled the porter in 2 liter PET's and 19 12oz bottles. Could not taste the vanilla, but the beer was extremely smooth and yummy. |
| 10/06/2009 Tues | Placed in conditioning cooler. Will probably taste this beer close to the end of the month. 24th? |
| 10/20/2009 Tues | Placed a couple in the beer fridge in the morning. Had one that night. Good beer; not great beer. I'm sure more conditioning will help. Can barely detect the vanilla. Good or maybe even great head. Pretty decent carbonation. |
| 10/21/2009 Wed | Added more to the beer fridge. |
| 10/27/2009 Tues | Tried another. Might have to upgrade from good to very good. Also had some more BB vanilla porter and am not sure more vanilla is better. |
| 10/28/2009 Wed | Placed more bottles in the beer fridge. Experimented with one while watching game one of the WS. Tried adding 1/8tsp vanilla extract to glass. Not enough. Tried adding another 1/8tsp. Maybe too much, but pretty close. If I use extract again for this recipe, will probably go with 2 tablespoons for the Mr. Beer sized batch. Or.... I will use real vanilla beans and follow DavJohn's advice. |
| 10/29/2009 Thur | Also keeping an eye on Toad's experience. |
| 10/29/2009 Thur | Got an update on Mr. B ingredients. BU/GU went from .417 to .488 (this was the least difference of any of the updated data.) But, color went from 33 to 24. |
| 12/03/2009 Thur | Have not really reported on drinking this, but I'm down to 3 12 oz bottles and 1 liter. This is getting better with time, but the vanilla is still not there. |
| 01/02/2009 Sat | Had the last one of these. Not really something I am interested in brewing anytime soon. |