Nugget Gold Ale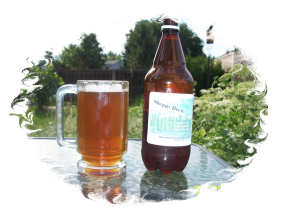 I recently came to the realization that I had never made a beer that follows Reinheitsgebot, so of course I had to brew a beer with nothing other than malted barely, water, hops and yeast. I have also been wanting to try Mr. Beer's Cowboy Golden Lager w/Pale Export combination, and having just gotten a shipment that included (among lots of other ingredients) that combination, now was the time to give it a try. Of course, I still had extra light DME, so I decided to add a bit of that to boost the alcohol level just a bit (and also give me the green light to call it my own beer). Sometime after I bottled, I realized that priming with sugar is against the Reinheitsgebot, so my whole premise behind this beer is flawed, but it is still a good golden beer.
I am calling it Nugget Gold in honor of the Denver Nuggets who just made it past the first round of the playoffs since 1992 or something.
Nugget Gold Ale is a golden color beer with a hoppy flavor.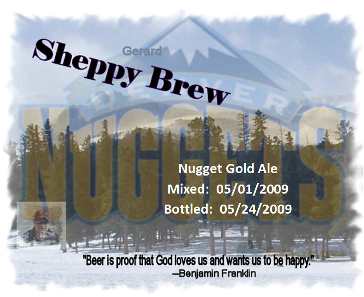 | | |
| --- | --- |
| Date | Note |
| 05/01/2009 Fri | Mixed up batch. Boiled .25lbs DME in 4 cups water and added the HME and UME. Nothing real special about this batch. |
| 05/16/2009 Sat | Tried a little sample from the tap of the keg. The beer is a fantastic yellow color. It is still pretty cloudy, but coming along well. |
| 05/22/2009 Fri | Bottled using the new Mr. Beer spigot and bottling wand. Like this way of bottling from the bottom up much better. Love the deep gold color of this beer. Will really look nice when it clears up. 3 1 liter PETs and 14 12 oz glass bottles. |
| 06/06/2009 Sat | Placed in conditioning cooler. Will probably try this on fathers' day. |
| 06/15/2009 Mon | Put some bottles into the fridge in anticipation of a possible beer tasting this weekend. Even if we don't do beer-tasting party, will have a couple on Father's Day. |
| 06/21/2009 Sun | I had one of these with dinner. The "Mr. Beer" taste has not mellowed, so I am going to let these sit for awhile longer. |
| 06/29/2009 Tues | Had a couple of these watching the stars on my back patio. Really good. It appears that 3 weeks conditioning is about right for this beer. |
| 07/06/2009 Wed | Had a couple more up in Breckenridge over Tracy's birthday weekend. Did not really detect much of a change. Still very good. |
| 07/09/2009 Thur | Placed all but a couple in the beer fridge. Put little labels on the bottles with a handwritten date. I'm going to start trying to remember to do this so that I will know which bottles were in the conditioning cooler longer. |
| 08/09/2009 Sun | Shared a couple of these with dinner guests. Got good compliments. Still seems a bit more hoppy than seems right to me, but certainly good beer. It was nice to get compliments. |
| 08/28/2009 Fri | Finished up the last 3. Fine beer. Not sure it is one of those that I will brew again. |
Recipe
Nugget Gold
Style
Golden Ale
Brewer
Sheppy Brew
Batch
2.13 gal
Extract
Recipe Characteristics
| | | | | | | |
| --- | --- | --- | --- | --- | --- | --- |
| Recipe Gravity | | 1.052 OG | | Estimated FG | | 1.013 FG |
| Recipe Bitterness | | 10 IBU | | Alcohol by Volume | | 5.0% |
| Recipe Color | | 5° SRM | | Alcohol by Weight | | 3.9% |
Ingredients
Quantity
Grain
Type
Use
0.25 lb
Extra Light DME
Extract
Extract
1.21 lb
MrB. Pale Export UME
Extract
Extract
1.21 lb
MrB. Cowboy Lager
Extract
Extract
Quantity
Hop
Type
Time
1.00 oz
MrB. Cowboy Lager
Pellet
5 minutes
Quantity
Misc
Notes
Recipe Notes
Dissolve DME in 4 cups water. Bring to Boil. Remove from heat and add HME and UME.